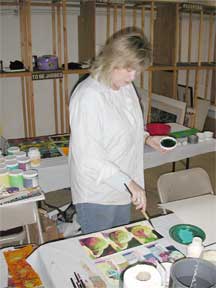 Nancy Bolton-Rawles
Currently, resides on the stunning Oregon Coast.
Lived in No. California for 30 years in the beautiful and historic "Mother Lode" country of Auburn, Grass Valley and Nevada City for 30+ years.
Born: Glendale, (So.) California
Raised: Canoga Park and Thousand Oaks, CA
Co-Owner of Intent Design Studio, LLC
Media (Primary):
Acrylic, Mixed Media, Collage and Photography
Art Interests:
Floral
Still Life
Landscapes
Cityscapes
Abstracts
Collage
Altered Books
Gemstone Jewelry Design
Website Design
Interests are forever expanding through the joy of experimentation and exploration.
One Person Exhibitions:
Sweet Café, Eagle Point, OR Summer 2005-2006 ongoing "Intuitive Abstracts"
Eagle Point Library 2005 June – August (two-person exhibit with husband Bruce Rawles – digital and 3D digital artist)
Group Exhibits:
City of Yachats: Banner for main street – Hwy 101. (Summer 2017)
Eagle Point Library 2006 Summer children's show, Children's Summer Reading Theme: Paws, Claws, Scales & Tales
20th Street Gallery, Sacramento, CA December 2002
20th Street Gallery, Sacramento, CA December 2003
20th Street Gallery, Sacramento, CA June 2003
Sierra College, Rocklin CA. Student Juried Show 2003
Sierra College, Rocklin CA Student Juried Show 1996
Awards and Honors:
Sierra College Student Juried Show 2003
Affiliations:
ISAP – International Society of Acrylic Painters
Upper Rogue Valley Artists, So. Oregon
So. Oregon Society of Artists
Eagle Point Library Arts Council – Board Member
Eagle Point Women's Club – Board Member (Historian and Publicity)
Past Affiliations:
Castle Rock Artist Guild, Castle Rock, CO
Auburn Arts Council, Auburn, CA
Pioneer Arts, Nevada City, CA
Nevada County Arts Council, CA
Education:
Sierra College, Rocklin, CA
1996 – Sierra College: AA – Fine Arts
2003 – Sierra College: AA – Applied Arts: Illustration
2003 – Sierra College: AA – Applied Arts: Design
Other Studies:
Photography and photographing Works of ArtAltered Book Art: Corrine Stubson
Acrylic Painting: "Loose and Juicy Aquamedia" workshops with Robert Burridge
Oil Painting: Painterly, mixed media and abstract workshops with Robert Burridge
Acrylic Painting: Intuitive Abstract Workshops with Lauryn Taylor
Various other studies at Mendocino Art Center, Mendocino, CA yearly since 1992
Lifelong study and practice in the arts.
Nancy now resides on the Oregon coast with her husband, (writer & web developer) Bruce Rawles, and their two adorable cats, Cooper and Sophie. She has 2 grown children, Heidi who lives with her family in Highlands Ranch, Colorado and Shaun who lives with his wife, Valerie, in Grants Pass, OR. and 2 beautiful and amazing (of course) grandchildren who also reside in Highlands Ranch, CO with their mom and dad.
Nancy enjoys baking from time to time and has a small recipe site to keep track of favorite recipes: "Altered-Recipes." She volunteers locally and holds a position with the Yachats City Library Commission and volunteers with Friends of Yachats Library.  She also enjoys rock hounding and driftwood collecting while walking the Oregon beaches.